2016 ASPCA Cornell Maddie's Shelter Medicine Conference: Register Now!
Article
The ASPCA Cornell Maddie's® Shelter Medicine Conference, now in its 12th year, is a two and a half day, four-track event designed to provide high quality information to shelter professionals that will enhance the quality of life for shelter animals. Don't miss Maddie's Shelter Medicine Program additional day long workshop on August 1.
Presentations will be made by speakers who are highly regarded in their respective fields. Download the full agenda in the box above.

Where
Cornell University
Robert Purcell Community Center
107 Jessup Road, Ithaca, NY 14853
When
Keynote speech and welcome reception will be held Friday evening, July 29 from 6:30-9 p.m. Seminars will be held July 30 and 31.
Registration Fees
DVMs: $100
LVTs: $50
Board members, administrators, staff, volunteers, individuals: $25
Students: Free with ID
Continuing Education Credits
14 hours of continuing education credits are approved with New York State Education Department, Office of the Professions, the Registry of Approved Continuing Education (RACE), and Certified Animal Welfare Administrator (CAWA).
Housing
Robert Purcell Community Center Townhouses (campus housing located next door to conference center)
Double Room: $60 per person, per night (4 people per Townhouse)
Single Room in shared Townhouse: $90 per person, per night (2 people per Townhouse)
Exclusive Townhouse for one person: Up to $183 per night
Register for a Townhouse Room
Housing in downtown Ithaca (10 minute drive)
Quality Inn: $159 per night
356 Elmira Rd, Ithaca, NY 14850
To book rooms at the Quality Inn, call 607.272.0100 and indicate you are with the Shelter Medicine Conference.
Sponsorship/Tables at Exhibit Hall
For sponsorship opportunities, please contact Erin Earley at 212.876.7705 x 4405 or via email at erin.earley@aspca.org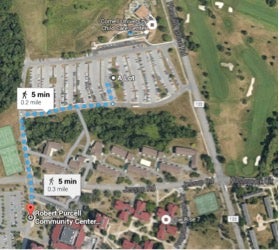 Parking
Parking for the 2016 Shelter Medicine Conference will be in A Lot. The lot is free and permits are not required. It is approximately 5 minutes walking distance to the Robert Purcell Community Center.
If you would like a permit to park directly outside of the conference building, please contact Erin Earley at erin.earley@aspca.org.