Come for a Sleepover; Join the Family!
How-to
Everyone needs to get away once in a while – and Arizona Animal Welfare League has found a way to give shelter animals some R&R and maybe a new home at the same time.
Since 2013, AAWL has placed over 1,000 pets through its Slumber Party program, for a whopping 72% of participating animals adopted! 
Getting to Know You
Potential adopters who are on the fence about a particular dog or cat are invited to take him or her for a slumber party (up to three nights for dogs and seven days for cats).
A perfect example of the program in action is the story of Saffire, a shy dog who shook and hid in the kennel but eventually warmed up outside of it. A would-be adopter spent some time with her in the outdoor area but wasn't convinced she was the lap dog shelter staff said she was. He was invited to take Saffire home for a slumber party so he could see the confident, loving side of her – the two bonded overnight and Saffire was adopted.
How it Works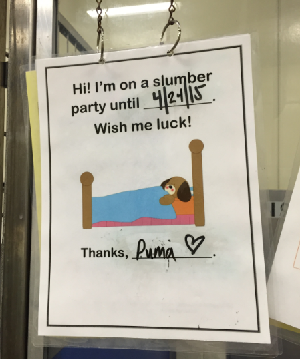 Counselors first discuss with the potential adopter the animal's needs and any concerns they may have. After filling out a simple, one-page slumber party contract, the agency sends slumber party hosts home with a crate (if desired) and food. A staff member calls the host at some point during the time away to make sure everything is working out and to answer any questions.
While the animal is out of the shelter, AAWL hangs a sign on his or her kennel letting other potential adopters know where the pet is and when they can check back on his or her status.
If slumber party hosts choose to adopt the pet, they come back to the shelter, sign the final adoption contract and collect the animal's paperwork. The dog or cat never has to come back to the shelter.
Michael Morefield, AAWL's shelter operation manager, says that even if an animal is returned after a slumber party, the agency still considers it a win because the pet got time out of the shelter to relax.
Slumber party hosts who return animals are also asked to fill out a survey which provides important information – such as if the pet is potty-trained or good with kids – all things  that can help him or her get adopted faster.
Why it Works
Slumber parties help take the stress out of the adoption process.
 "Bring the animals home, see them flourish, fall in love with them in the comfort of your own home," says Morefield. He adds that by taking an animal home, adopters can see the "real" animal, not the stressed-out version.
He acknowledges that the idea of a sleepover may seem scary at first, but encourages other shelters to give it a try. "Give potential adopters the opportunity to see parts of the animals' personalities they wouldn't otherwise see," he urges.
Morefield also suggests making sure any fears that staff members have about the program get addressed so they'll feel comfortable suggesting the program to potential adopters.
Photos courtesy Arizona Animal Welfare League
More Lifesaving Resources
Check out these blogs on short-term fostering and satisfaction guaranteed adoptions: Hit the Snooze Button  and The Cure for Buyer's Remorse.