In This Section
Overview, Blogs & Webinars
Publications
Programs
---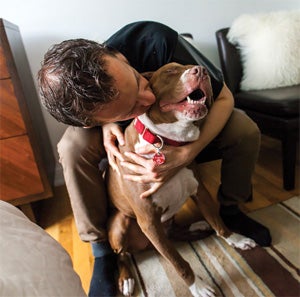 ---
"Research and Development at the ASPCA starts with the philosophy that every number is a wet nose."
-Dr. Emily Weiss, Vice President, ASPCA Research and Development
---
Keep up to date with R&D and other lifesaving programs. Sign up for the ASPCApro e-newsletter.

---
Related Tools & Tips:
R&D Data-Driven Programs
ASPCA SAFER®
SAFER ® (Safety Assessment for Evaluating Rehoming) is a simple assessment to help predict potential for aggression in dogs.
Meet Your Match
Want to increase adoption numbers while reducing returns? The ASPCA's Meet Your Match Canine-ality™, Puppy-ality™ and Feline-ality™ science-based programs are fun and highly effective.

X Maps Spot
Geographic Information Systems (GIS) is a tool that allows for mapping of animal data. The X Maps Spot project maps intake and outcome data to more accurately pinpoint risk, and then uses it to measure the impact of programs and processes applied to mitigate that risk.
Adoption Ambassadors
This program helps empower fosters to find adopters for the animals in their care, lessening the burden on shelters and saving more lives.
Is This Cat Feral?
The R&D team has developed ways to determine if a cat entering a shelter is truly unsocialized or just frightened.
New Research on Pets as Gifts
Do you have a policy that no pets can be adopted as gifts? The latest ASPCA research explains why it's time to reconsider.
Less Is More on the Adoption Floor
The ASPCA's Less is More research tests the hypothesis that fewer cats on view at a shelter increases the potential for adoption.
Fee-Waived Adoptions
This research shows that people who adopt free or fee-waived shelter cats value and care for them just as much as people who pay adoption fees.The research also found that "giving away" cats does not reflect poorly on the shelter.
ID Me
This program looks at human behavior around tagging pets and identifies ways to increase the number of pets tagged.
Lost Pets?
The Lost Pets research examines the public's experiences with losing a pet and determines the number of lost pets likely to be in our shelters.
Food Guarding
The ASPCA's food-guarding research develops simple ways to modify this behavior and save the lives of these at-risk animals.