Find a Relocation Partner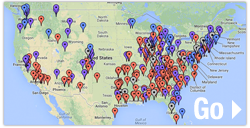 More Resources
MAP FAQ
Free Relocation Webinar
Animal Relocation & Transport
MAP in Action
'In just this past month through MAP, we have already been able to save 70 animals and have plans underway for another 55 in the next few weeks … the MAP grant we received has us off to a phenomenal start!' - Donna Pregeant, Humane Society of Lincoln County TN
Resources Like This:
MAP
Do you have too many animals at your facility – or not enough? The ASPCA's MAP (Moving Animals Places) is a free, searchable database that helps you connect with nearby shelters. Members can look for a source or destination group either on a one-time basis or as the start of a powerful lifesaving partnership!

Want to get your dot on the MAP?

How MAP Works
Three easy steps will get you started:
Fill out a short form
Begin browsing to find possible connections
Join the MAP community by entering more detailed data so that other shelters can find you
MAP can help just about any sheltering agency or rescue – whether your organization occasionally has empty cages, or you're facing low live-release rates, or you would simply like to partner with other groups for a more diverse selection of animals on the adoption floor. The information provided through MAP is comprehensive, real-time and all in one place – and that helps groups facilitate more efficient, humane and safe transports.
Features & Benefits of MAP
Map is FREE to any 501 (c) 3 organization or municipal agency
You have the ability to test-drive the tool before completing registration
You can use search filters such as distance and breed rescue
You can rate other organizations and see their ratings
You can post photos of animals at your shelter via Petfinder module
You have access to members-only grant opportunities and transport tips
Want to get your dot on the MAP?