Humane Alliance: A Program of the ASPCA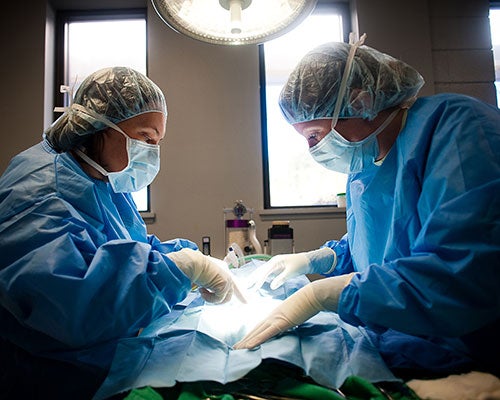 In 2015, the ASPCA acquired Humane Alliance, a nationally recognized nonprofit and a leader in high-quality, high-volume, low-cost spay/neuter. Humane Alliance operates two training facilities on its Asheville, NC campus, with 12 surgical suites and a dormitory facility for veterinary students, and trains approximately 1,000 spay/neuter professionals every year.
Extern Training
Humane Alliance offers free hands-on, quality spay-neuter instruction to almost 500 senior veterinary students of AVMA-accredited institutions every year. The program delivers spay/neuter surgical instruction and gives students a look into the world of shelter medicine. Seven out of the program's 10 days involve some amount of surgery. Depending on individual ability, most students have historically performed from 15 to 30 surgeries in the two-week period.
The program also includes training in pre-surgical physical examination, patient selection, patient monitoring and recovery, recheck examinations, anesthesia machine monitoring and maintenance, and offers lectures in shelter medicine and working visits at a local shelter. A dormitory facility is available on campus for participants of this program.
Learn more about the program here.
Veterinarian Training
Humane Alliance is proud to offer veterinarians an educational, hands-on experience that exposes them to safe, effective and efficient spay/neuter procedures and techniques. This program makes it possible for veterinarians of private practices, shelters, rescue operations and more to gain confidence in these crucial surgeries.
Year-round scheduling, an instructor-to-student ratio of 1-to-2, and the availability of up to 26 continuing education credits all contribute to an invaluable program that is experienced by 300 veterinarians annually.
Learn more about the program here.
Clinic Openings
The National Spay/Neuter Response Team (NSNRT) is a program designed to help others open, operate and sustain quality, high-volume spay/neuter clinics.
The comprehensive training goes beyond surgical skills to include budgets, floor plans, discounts on supplies, standards of care, medical and administrative protocols, networking opportunities, webinars, opportunity for grants to purchase clinic equipment and much more.
The process culminates in one week of training for the clinic's entire staff at the facility in Asheville, NC. Humane Alliance immediately then follows that up with one week's training in the clinic setting, allowing trainers to observe the clinic's process and make recommendations where appropriate.
Learn more about the program here.
Medical Team Training
This program is geared toward medical teams who are currently working together in a mid- to high-volume spay/neuter environment.
This training is designed for those looking to polish their skills, increase surgical capacity and/or experience a valuable team-building week, while trading tips and tricks with our clinic's surgical staff.
It is open to the veterinarian plus medical support staff, who work with dedicated trainers. Continuing education credits are also available for veterinarians and RVTs.
Learn more about the program here.
Consultation Program
Humane Alliance understands that trying to identify and fix inefficiencies in operating spay/neuter clinics can be challenging for organizations. That's why the one-and-a-half day Consultation Program was established.
Spay/neuter clinics that have issues in a particular medical-related area (such as intake/release, flow and efficiency, meeting surgical goals or medical protocols) can benefit from a visit from the Humane Alliance team of veterinarian and veterinary technician/assistant.
The first day is strictly observation, so a clinic's operations can be seen in full. The second half-day will be spent first with the manager of the clinic to discuss observations, and then with the full staff to discuss strategies and ideas. Feedback and recommendations are provided in a written report and follow-up phone conversation.
Learn more about the program here.
Veterinary Assistant Course
The Veterinary Assistant Course has been designed to deliver hands-on training to local participants looking to start or strengthen a career in veterinary assisting. By teaching proficiencies applicable to a broad scope of career opportunities, including those found in veterinary practices, animal shelters, boarding/grooming facilities and spay/neuter clinics, the program prepares graduates to excel as members of animal care teams across North Carolina and beyond.
The 10-week course is a practical experience, with small classes and lots of individual attention. Humane Alliance has worked closely with educators, veterinary professionals and business owners to develop a curriculum that will give students a well-rounded education, focused on the needs of potential employers, and a partnership with Buncombe County and A-B Tech will ensure the best possible delivery of course content.
The curriculum has also been built to work within the schedule and budget of those already working in the field, as well as for those looking for solid training to make a career change.
Students will receive 100+ hours of instruction, and complete a 12-hour externship with one of Humane Alliance's local partner facilities.