How to Throw a Valentine Wedding for Shelter Animals in 7 Steps
For the past five years, Baltimore Humane Society (BHS) has seen sweet success pairing up their shelter animals to exchange nuptials. At these megahit events, community guests and reporters gather to watch dogs, cats and even guinea pigs join in marriage—and yes, some of these are interspecies weddings!
It started when BHS director of marketing and public relations Wendy Goldband had a golden idea for Valentine's Day, and it blossomed from there. The pet weddings score lots of publicity, which is particularly helpful for promoting animals such as longtime residents who can use a little extra help getting adopted.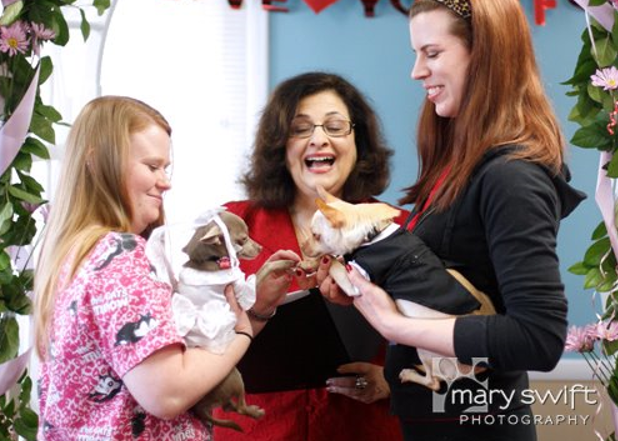 Animals who participate in the BHS wedding are usually adopted within a few days, and since the weddings draw extra foot traffic, all the animals at the shelter benefit from additional exposure.
Are you in love with this idea? Here's how to make it work.
Step 1: Plan in Advance
Goldband recommends giving yourself at least six weeks for planning, since you'll want to advertise the event on social media and in your newsletter, hand out flyers, and send out a press release.
As the resident graphics guru, Goldband designs the promotional materials, including marriage certificates. Each year, event planning takes less time since the templates are already in place—so build a strong foundation when you get started, and you'll be set for future events.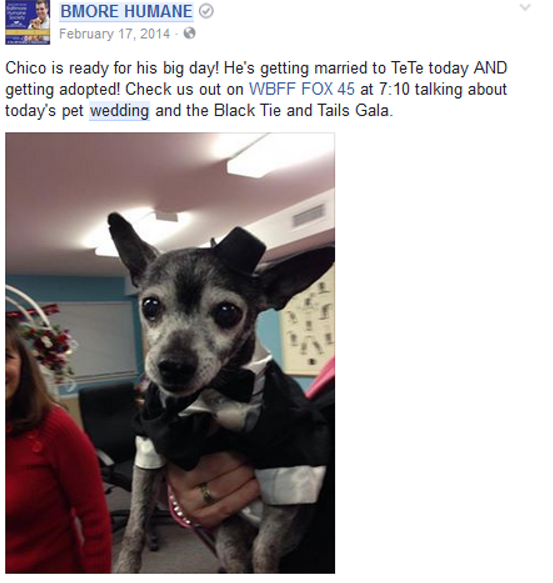 As far as cost is concerned, Goldband says if she spends $100, that's a lot. BHS gets almost everything from the cake to the entertainment donated, and hits the dollar store for extras.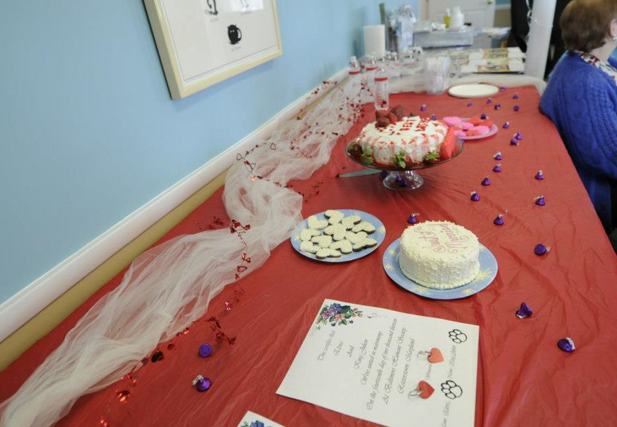 2: Choose Your Couples
BHS chooses two couples per ceremony for their double weddings. According to Goldband, the wedded pairs don't have to necessarily be "friends." Sometimes it's more important to find two animals who need the extra PR. Of course, you'll want to make sure they can get along for the duration of the short ceremony. BHS staff trainers arrange mini play dates to test compatibility.

Step 3: Say Yes to the Donated Dress
Your brides and grooms will need a gown and tux, naturally. BHS gets costumes, veils and accessories donated from party stores. Goldband stresses putting in the time to make the calls—she once even found a rat rescue willing to donate custom-made outfits for Aladdin and Jasmine's wedding.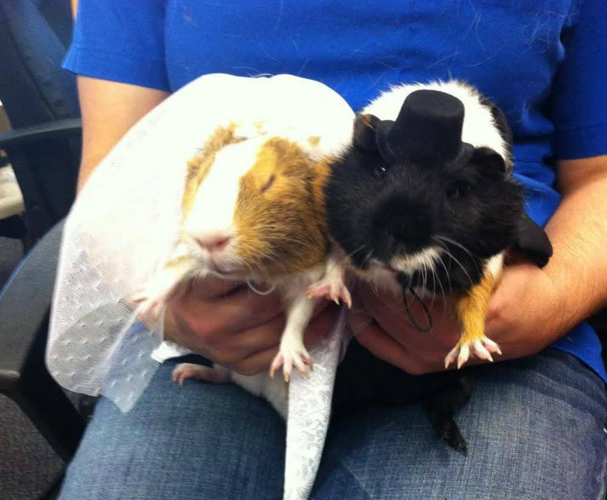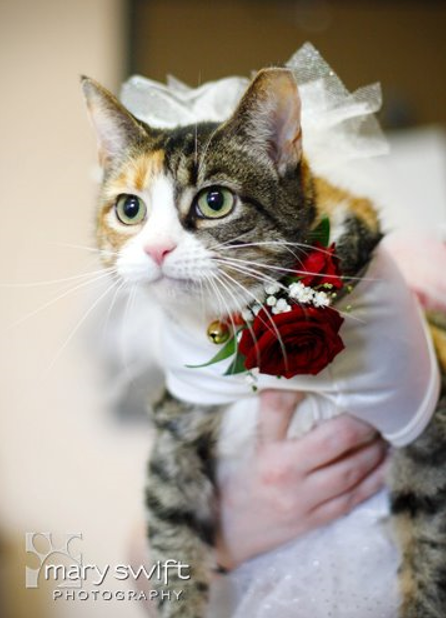 BHS holds costume fittings in advance of the wedding—and yes, it's as cute as it sounds, so it's a great event to photograph and promote on social media.
Step 4: Arrange the Venue
What, you don't have a grand ballroom at your shelter? BHS simply lines up chairs in their conference room. Who's filling those chairs? The public—all are welcome, no RSVP required. Admission is free, but guests are encouraged to donate a gift from a wedding registry.
Step 5: Line Up the Flowers
Contact local florists to ask for donations. BHS receives flowers gratis not only for the bride's bouquet, but decorations for the trellis and chairs, too. Of course, working with a local business should be mutually beneficial, so in addition to including the name of the florist in your event materials, invite them to share photos and score some extra coverage for their shop.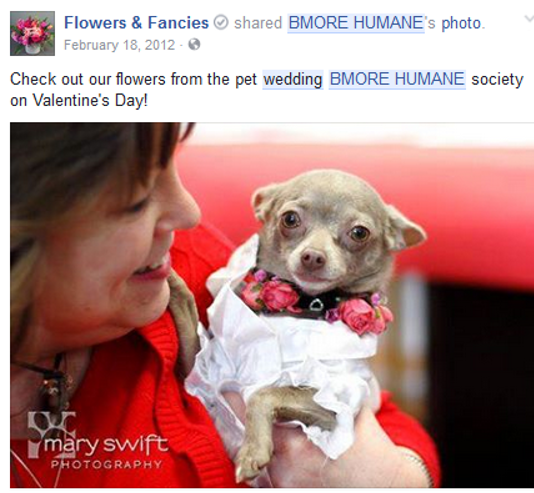 Step 6: Book the Entertainment
BHS is fortunate to land volunteer musicians. If you can't find folks to provide live music, ask someone to play DJ using a romantic smartphone playlist!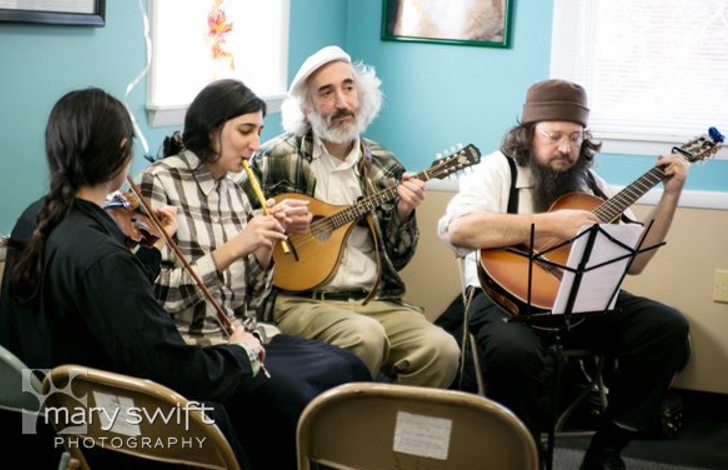 Step 7: Plan the Ceremony
To keep the wedding day stress-free for all parties, Goldband recommends having the room and decorations set up the day before.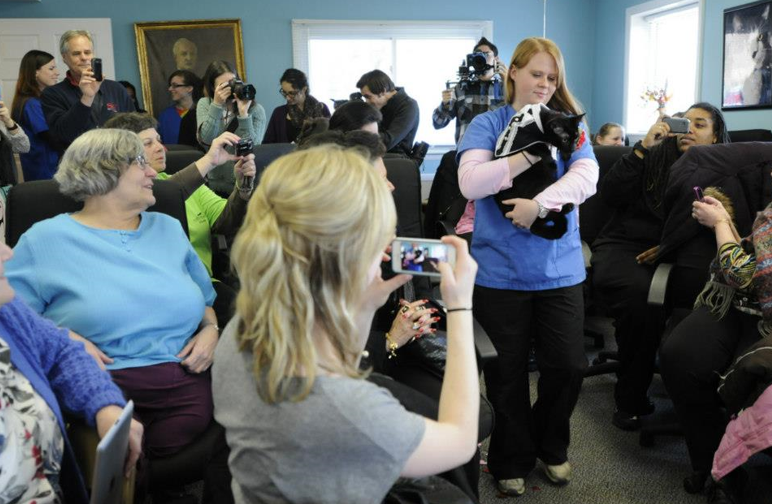 BHS weddings are officiated by a professional cantor who provides a fun, entertaining service, but an outgoing staffer or volunteer with a flair for comedy—and tugging heartstrings—would do just as nicely.
In order to hold the animals' attention, you'll want to keep the service nice and short—no more than 10-15 minutes. At BHS, staff handlers escort the bride and groom down the aisle, and it's the small, thought-out details that add a special touch:
The wedded couple exchanges pet tags instead of rings
The bride and groom "sign" custom marriage certificates with a paw stamp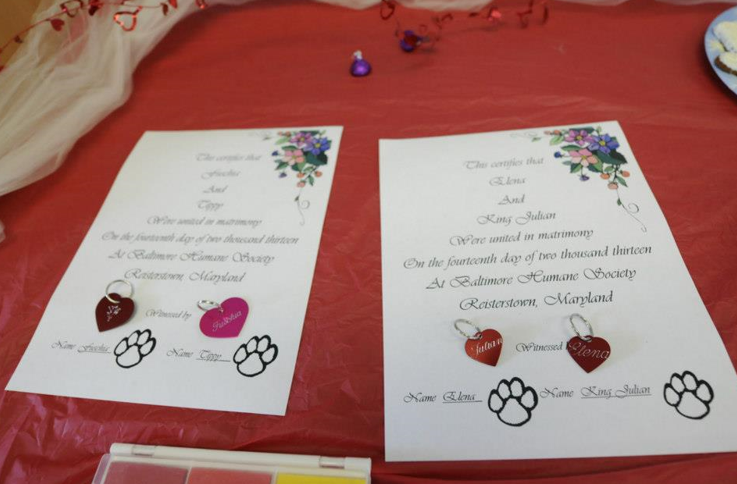 After the ceremony, guests at BHS line up to throw birdseed at the happy couple as they ride off in a decorated vehicle. As you can see, you can have a lot of fun and get creative attaching things like empty cat food cans to the car.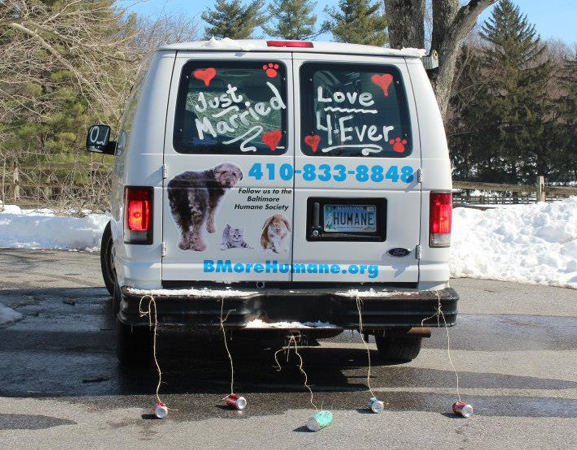 It pays off to dream big. One year BHS teamed up with a car dealership and the animals were driven off in style!
So where do they go? Er…. just down the driveway! The real honeymoon doesn't happen until the animals are adopted and at home with their new families.
Throughout the Process: Photos, Photos, Photos
Of course, no wedding is complete without pictures. BHS often partners with professional photographers, but some of their weddings are covered by cell phone cameras—and either way is perfectly fine for your fans who just want to see cute photos of animals tying the knot!
Here are albums of past weddings to inspire your own events:
Pinterest board: Valentine's Day Pet Wedding at Baltimore Humane Society
Facebook albums