About FIR
Field Investigations and Response
How Agencies Can Participate
How Individuals Can Participate
How FIR Can Help You
Rescuing Victims, Fighting Cruelty
Meet the FIR Team
---
Watch FIR in Action
---
"I don't recall ever seeing a more efficient and qualified crime scene team anywhere. It definitely made a difference in the outcome of the case." -Richard M. Shields, Prosecuting Attorney, Henry County, Missouri
---
FIR Webinars
Learn more — watch the free webinar series
---
Stay With Us
Keep up to date with FIR and other lifesaving programs. Sign up for the ASPCApro e-newsletter.

How Agencies Can Participate
The FIR Response Partner Program allows the ASPCA to join forces with local and national shelters, rescue groups, disaster response teams and animal control agencies to help animals in dire situations. Partners provide much-needed assistance by sending skilled staff and volunteers to assist with field rescue, crime scene documentation and emergency sheltering.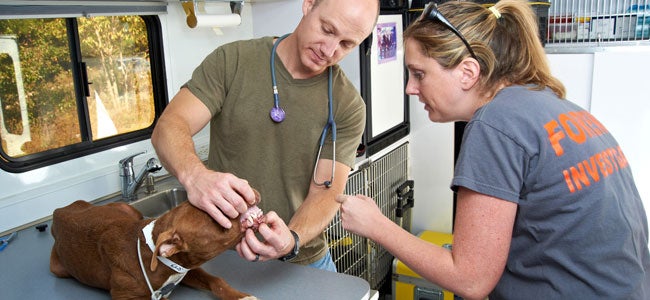 Partners also provide rescued animals a chance for a new life by accepting them into their adoption programs. FIR's response partners have placed thousands of animals from disaster and cruelty cases into loving homes and that number continues to grow. 
When partners accept animals for placement, the ASPCA provides:
General veterinary care for all animals, including vaccines, rabies and health certificates for out-of-state transfer, deworming/parasite treatment, heartworm & FIV/FeLV tests and more
On-site behavior assessments provided by certified  behaviorists
Direct transportation of animals or transport assistance
Financial support in the form of grants to offset costs
Recognition of the partnership on ASPCA outlets and media support for generating local interest in rescued animals
When partners deploy staff/volunteers, the ASPCA provides:
Invaluable experience in the field working alongside ASPCA experts
Knowledge and practical experience with  ASPCA protocols
Opportunities to learn new skills in areas like animal handling, emergency sheltering and animal training and behavior
Additional benefits include:
Eligibility for Response Partner program grants
Access to FIR team experts
Resource sharing
Media opportunities
"The benefits of working with FIR are many and varied. For staff, it is a secondary training. Those who deploy learn new skills, build confidence, and come back feeling that they have made a positive difference. It's great team building and keeps staff enthused and engaged. Accepting animals from FIR is a partnership. They are organized and available, as well as supportive. They stand behind everything they do. I encourage every organization to work with this professional group.
– Shelley Thayer, Cat Depot, Sarasota, FL
Partner with FIR
If your organization is interested in partnering with the ASPCA to save more lives, please review and complete the Response Partner application and liability waiver. We will review your information and contact you. If accepted into the program, we will enter into an agreement regarding the partnership and your organization will be added to our database to be contacted when deployment or placement opportunities arise.  Have more questions? Please email us at responsepartner@aspca.org