We Are All Health Services Researchers
Yes, sheltering professionals, that includes you! The ASPCA's Dr. Emily Dolan gets the discussion going about the importance of what you're doing every time you collect data to help improve services.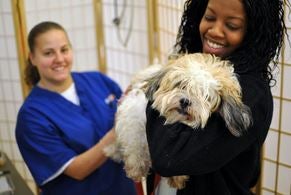 Have you noticed that we have been talking a whole lot about people when we talk about pets lately? Blending a public health outlook with traditional animal welfare science opens us up to a wide array of new frameworks and tools for thinking about the work we do.   
This blending is something I work on every day. I am a health services researcher here at the ASPCA. What in the world is that?! Health services research is a set of tools that helps us figure out how well we are doing to provide high-quality services that are accessible to people in our communities, cost effective, and result in good outcomes for animals. Health services research is fundamentally about improvement. In other words, helping us get even better at what we already do.
Any time you collect data to help you improve the services you provide and make sure you are achieving positive outcomes for animals you are being a health services researcher. Say, for example, you do a quick survey of the reasons people are surrendering animals so that you can offer the right services to help people keep their pets instead. That's health services research right there!
The framework of quality is a great example that we can apply to our field and use aspects of health services research to test how well we are doing. Just like your doctor's office gets rated for customer satisfaction and quality, we can measure the quality of the services we provide to the animals and the people in our communities. 
The INSTITUTE OF MEDICINE published a report in 2001 Called Crossing the Quality Chasm: A New Health System for the 21stCentury. They proposed 6 critical goals that define improvement in quality for health care—and I've touched them up a little for our purposes.
Safe: Avoid injuries to patients animals from care that is intended to help them.
Effective: Provide services based on scientific evidence.
Patient Animal Centered:  Health care Animal welfare services should be responsive to individual needs of animals and their people.
Timely:  Reduce waiting and harmful delays for animals receiving care services.
Efficient: Avoid waste and inefficiency in the provision of health care services.
Equitable: The health care animal welfare system should not vary in quality because of the personal characteristics of the animals or their people.
With the change of only a few of words, this framework applies to us!
Public health has broad goals to help people stay healthy and a plan to find out what is and is not working. Which of the 6 critical quality goals above resonates with you most? How might you use it to think about quality in your organization? And stay tuned to future blogs, where we'll dig further into this topic.

Emily Dolan, PhD is a Health Services Researcher in the ASPCA's R&D department and applies her human health experience to help keep people and their pets together. Dr. Dolan specializes in program evaluation, survey development, data collection techniques, and data analysis. When not working she can be found teaching Nia mindful fitness classes or with her nose in a good book.
Related Links
Blog: "Getting Ahead of the Trend"
Get our Blog content delivered direct to you.
The latest posts from ASPCApro experts and thought leaders delivered directly to your inbox.
Explore ASPCApro Tools & Tips by Topic: