Facebook Basics: 5 Questions to Ask Your Fans
Too quiet on your Facebook timeline? It's all about the ask. Posing questions on your social media channels is a great way to engage and educate fans, create a sense of community online and, yes, even get some stuff crossed off your wish list. Peruse these 5 ways that your colleagues in the field are keeping the convo going.
Ask fans to caption a photo
Asking folks to caption photos of animals currently at your shelter is a great way to promote available dogs and cats. Try something like, "What's this cat thinking?" or "Give this puppy something to say."
In a variation on this theme, The Cat Network even saved some time looking for a compelling photo by simply sharing another organization's post.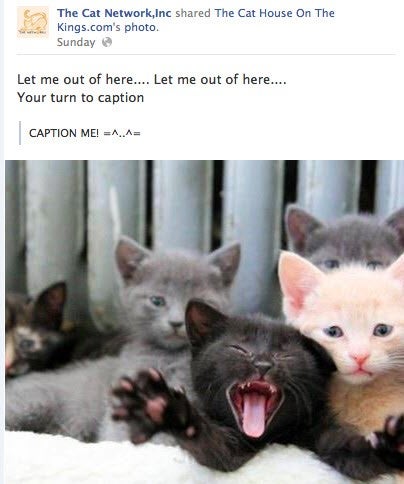 Ask fans to name your available animals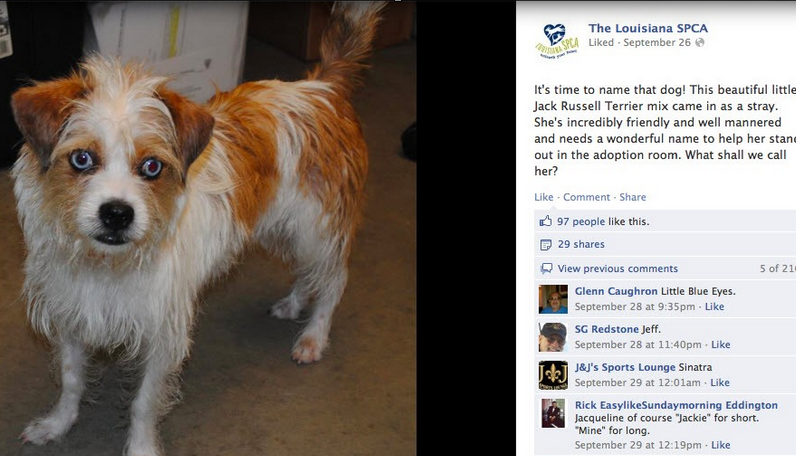 What's in a name? Oh, only more than 200 Facebook comments, as demonstrated by this status posted by Louisiana SPCA.
Take careful note of the languaging here. Sure, this is totally fun—and LA/SPCA is also letting fans know that they can make a difference in this dog's life. By coming up with a good name, she'll have increased chances of finding a home.
Ask for needed items and supplies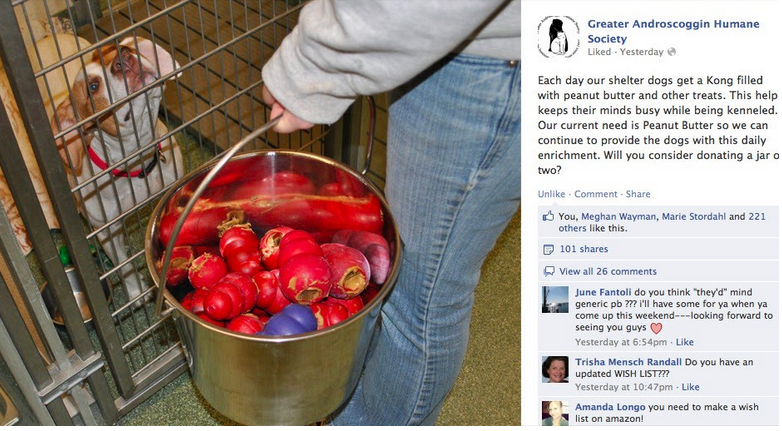 Out of bleach? Need more paper for your printer? Your community wants to help—just be specific, as in this recent post from Greater Androscoggin Humane Society (GAHS).
P.S. A cute pic doesn't hurt either—check out that pup just waiting for his PB & K!
Play the guessing game
You live it every day, so you may not always realize it, but your social media followers would be fascinated by the day-to-day operations of your shelter—how much litter and food you go through in a week, how many doggie toys you have, how many adoptions you did last month, how much laundry you do…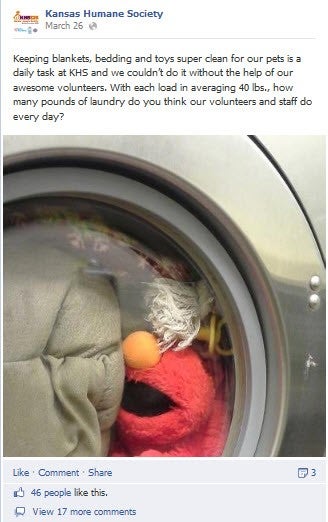 (Don't worry, Elmo made it out unscathed.)
Ask about the weather (and other timely questions)
Holidays, weather, a hot new movie, when the hometown team kicks butt… all can be great Facebook fodder when you add pets to the equation.
In honor of Volunteer Appreciation Week, for example, GAHS posed this question below.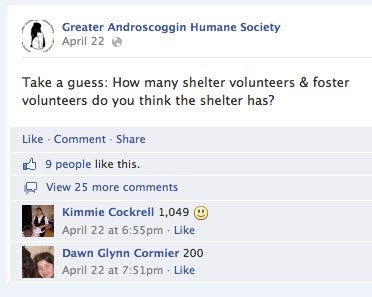 Bonus tip: This short, simple status was one of many volunteer-related posts throughout the week—GAHS posted a follow-up with the answer (450), as well as multiple photos of their volunteers in action. If you're planning a mini-campaign on Facebook on a specific topic or event, try throwing in a related question or two—it adds a nice variety and can help keep the momentum going.
Now we have to ask you something! Share which questions have worked well on your Facebook page.
Related Links
10 Tips for Taking an Effective Photo
Tell Your Event's Story with Compelling Pictures
Get our Blog content delivered direct to you.
The latest posts from ASPCApro experts and thought leaders delivered directly to your inbox.
Explore ASPCApro Tools & Tips by Topic: