Tip of the Week: Give 'Em Fair Warning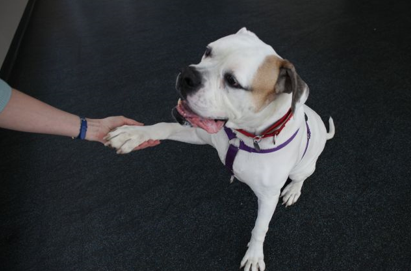 Working with shy and fearful dogs can be a challenge. Expert dog behaviorist Patricia McConnell, PhD, CAAB, suggests that predictability—knowing what's about to come next—is important to ensure a dog's sense of security.
If you need to touch an uneasy dog, it helps to give him a cue to allow him the chance to prepare for what is to follow. For example, before wiping a dog's paws, ask if he's ready. McConnell says that over time many dogs will begin to lift their paws voluntarily on your verbal prompt.
What techniques do you use to help dogs adapt to stressful situations?
Related Links
Webinar: Building Resilience in Dogs
Simple Behavior and Handling Tips for Shy and Fearful Dogs
Get our Blog content delivered direct to you.
The latest posts from ASPCApro experts and thought leaders delivered directly to your inbox.
Explore ASPCApro Tools & Tips by Topic: