New Video: Spot Cleaning for Cat Kennels
Update, November 29: We're aware of an issue with the video, and we're working to get it back online. Please stay tuned.
"Spot cleaning is healthier for cats and more efficient for shelter staff than daily full cleaning and disinfection," says the ASPCA's Tami McReynolds, DVM, Senior Director, Shelter Outreach. "Spot cleaning also reduces several of the biggest causes of stress in cats by not disrupting their home environment or introducing chemical odors every day."
To help share best practices for this crucial stress-busting and shelter wellness-making process, Dr. McReynolds lent her expertise to the creation of ASPCApro's new video tutorial, Spot Cleaning for Cat Kennels.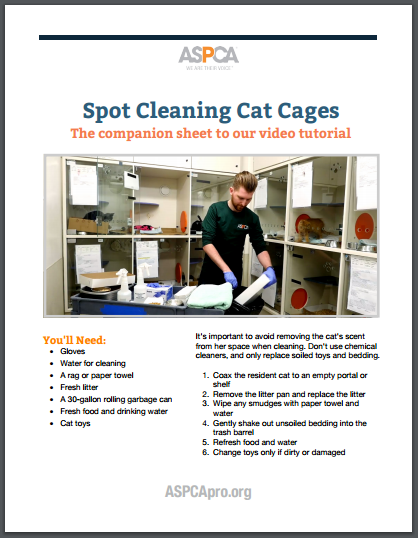 This is a great one to pass on to your staff and volunteers—how about watching and discussing together at your next all-staff meeting, or including the link in your next volunteer newsletter? And don't forget the handy downloadable one-sheet that goes along with the video—we've got you (and the cats in your care!) covered.
Let us know how you will use this video! We'd also love your ideas for future training materials. 
Related Links
Download: Step-by-Step Instructions for Spot Cleaning Cat Kennels
Get our Blog content delivered direct to you.
The latest posts from ASPCApro experts and thought leaders delivered directly to your inbox.
Explore ASPCApro Tools & Tips by Topic: