Tip of the Week: Start at the Nose and Go to the Toes
Preventing a ringworm outbreak starts at intake—every animal who enters your shelter should be screened for lesions that result from ringworm. Dr. Sandra Newbury, DVM,  director of University of Wisconsin's shelter medicine program, shares tips for a thorough check.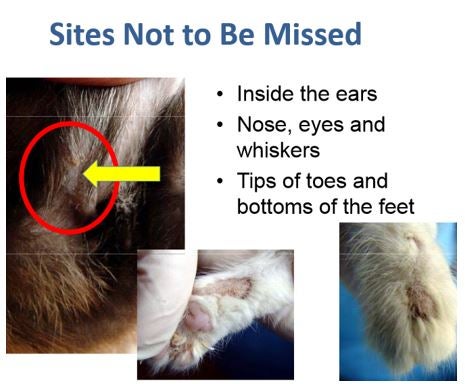 Identify Them
A lesion is not just a place where hair is missing—it's an inflammatory abnormality of the skin. A classic lesion can be identified by its redness, crusting and wetness of the skin.
"Start at the nose, go to the toes and don't forget the tail!" is Dr. Newbury's catchy, easy-to-remember guideline for ensuring no spots are missed. Commonly overlooked spots are shown in the image at right.
Mark Them
Dr. Newbury uses this physical exam sheet to document lesions when she finds them. It's important for intake staff to carefully mark lesions so the vet will know exactly where to look.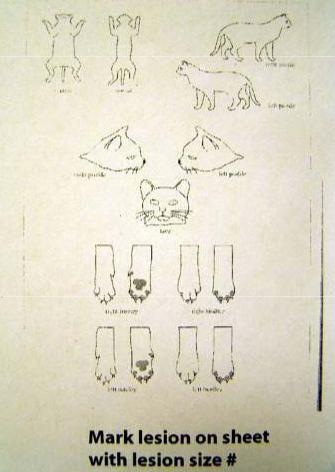 While some lesions are obvious, some can be easy to miss. That's why Dr. Newbury recommends using a Wood's lamp as part of all intake screenings, which illuminates lesions that otherwise might not be seen.
Related Links
Beating Ringworm Webinar Series
Get our Blog content delivered direct to you.
The latest posts from ASPCApro experts and thought leaders delivered directly to your inbox.
Explore ASPCApro Tools & Tips by Topic: