Report from the Field: California Wildfire Rescue
Special announcement: Tomorrow, September 28, we're switching to the Disqus comment system. If you've posted here before, you'll need to create a new login. Disqus offers the option to sign in using an existing social media account or to create an email/password combination. Thanks for staying in the conversation!
---
When wildfires raged out of control and 6,000 people and their pets were evacuated from a California town last month, the ASPCA Field Investigations and Response Team answered the call for help. Ehren Melius, Shelter Director, shares his account of this intense operation.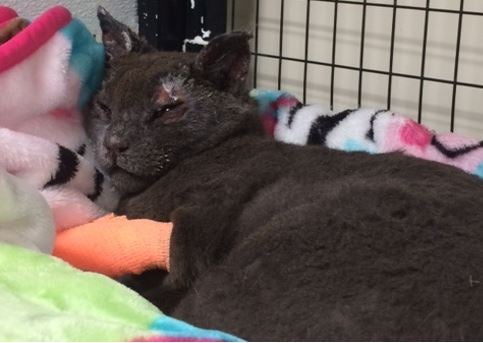 On the evening of August 13, a fire broke out just south of the town of Lower Lake, CA. A short 24 hours later, upwards of 6,000 people and their pets were evacuated from the area as the fire raged out of control, destroying much of the town of Lower Lake and threatening the town of Clearwater. Bill Davidson, Director of Lake County Animal Care and Control (LCACC), reached out to the ASPCA for assistance, as evacuated and rescued animals were pouring into their facilities.  
We were first introduced to the team at LCACC during last September's Valley fire, a tragic incident that claimed the lives of 4 people and hundreds of animals. Not even a year later, and this community that was just beginning to rebuild, physically and emotionally, was faced with yet another catastrophe.
Our team arrived in Lake County on August 15 to provide support to LCACC's emergency shelters. That first day was heart-wrenching, as we watched beloved pets being handed over by tearful owners. Exhausted field teams pulled into the facility with distressed and injured animals rescued from the fire zone. Our team jumped right in, helping care for these displaced animals large and small.
By the next day, we started to see things turn around. Fire crews were able to achieve increased containment on the fire, allowing some of the evacuation zones to repopulate.  Our team was thrilled to assist with reunification, as owners arrived to reclaim their pets. Tearful reunions were happening everywhere you turned, and over the course of the next few days we were able to get over 300 animals back into their homes.
It was a short and intense operation for our team, but one that we were glad to undertake. The long days, the joyful reunions, the unwavering dedication of the people dedicated to help the animals affected by this tragedy… all of it made for an unforgettable response.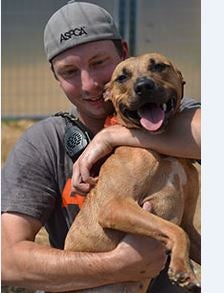 Before assuming his current role as the FIR team's Shelter Director, Melius worked for almost 12 years at the Columbia-Greene Humane Society/SPCA, where he held a variety of roles within the organization, including medical manager, animal cruelty investigator and director of operations. Melius signed on with FIR in 2010 and deployed regularly with us as a responder until his hire in 2013. He resides in upstate New York and shares his home with his dog, Roo, and two cats, Jimmy and Slinky.
Related Links
Ask the Expert: Ehren Melius on Emergency Sheltering
Webinar recording: Innovations in Emergency Sheltering
Download: 10-page Emergency Housing Guide
Get our Blog content delivered direct to you.
The latest posts from ASPCApro experts and thought leaders delivered directly to your inbox.
Explore ASPCApro Tools & Tips by Topic: