The Human-Animal Bond: The Latest Research & Resources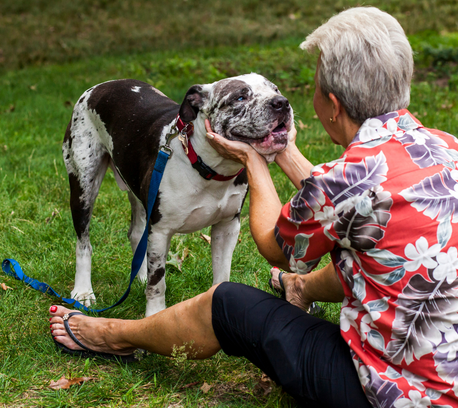 Guest blogger Claire Sterling is back with a report from the recent International Society for Anthrozoology conference.
Earlier this month, I had the good fortune to attend an ASPCA-sponsored conference held in upstate New York by the International Society for Anthrozoology (ISAZ), a professional association supporting the scientific and scholarly study of interactions between human and non-human animals.
Much of the conference programming focused on the human-animal bond and its effect on both people and animals. There were session tracks on vulnerable populations and their animals, benefits of various types of animal-assisted therapy and animal welfare. The deep interdependence between people and their companion animals was a recurring theme, and some fascinating facts supporting this concept were highlighted during a keynote speech given by Phil Arkow of the National Link Coalition:
In the U.S., more homes have pets than children, and more money is spent annually on pet food than on baby food
Children in the U.S. are more likely to grow up with a pet than with a father who lives at home
Animal-related words emerge soonest in toddlers' vocabulary after parent-related words
Many domestic abuse victims do not leave their abusers for fear of what could happen to their pets
The conference reinforced what many of us in animal welfare already know: that by helping animals, we help people as well. In his Philanthropy New York blog post, ASPCA Grants Vice President Michael Barrett advocates for a more holistic approach to grantmaking among human-services funders, highlighting the significance of pets in people's lives and the association between the well-being of companion animals and that of their human caretakers.
In addition to showcasing the strength of connections between people and pets, the conference also illuminated the connection between research studies and the advancement of animal welfare. Research topics presented at the conference included many with direct and practical relevance for animal shelters: landlords' attitudes toward tenants with pets, risk factors associated with reported dog and cat bites, euthanasia decisions in the sheltering industry, the use of stochastic modeling to understand the impact of live release rate and intake policies on animal welfare, and the role that the website Petfinder plays in cat adoptions.
The ASPCA is unique in our role as an organization with depth of experience in both sheltering work and research – a combination rarely found under the same proverbial roof, but one that provides abundant opportunities for cross-pollination. The ASPCA's Research & Development resources for the sheltering community entail a wealth of publications, data-driven programs, webinars and blogs.
For those interested in human-animal bond research, a dedicated portal exists for that, too, courtesy of the Human-Animal Bond Research Institute.
As you go about your daily work and grapple with the many challenges it presents, may you draw inspiration and encouragement from the positive ripple effect your efforts have on the members of your community – both animal and human alike.

Guest blogger Claire Sterling is Director, Grant Strategies at the ASPCA. Having previously done foundation fundraising for six years at the Foundation Center, her personal blog, The Lion's Share, provides philanthropy-related resources for organizations that better the lives of animals.
Related links
Blog: "It Ain't Rocket Science"
Blog: "Training Your Way with ASPCA Webinars"
Get our Blog content delivered direct to you.
The latest posts from ASPCApro experts and thought leaders delivered directly to your inbox.
Explore ASPCApro Tools & Tips by Topic: