Who Needs Shelter and Who Just Needs a Helping Hand?
Dr. Emily Weiss shows how sometimes the best way to offer shelter to an animal is not to shelter him.
The definition of the word shelter is "a place giving temporary protection from bad weather or danger." In verb form, it's "to protect or shield from something harmful…" While there are a multitude of missions that brick-and-mortar animal shelters are working toward, most include some philosophical bend of the definition of shelter.
What I have found to be muddy is the determination of danger – which should then help drive us to know who truly needs to come into our shelters. When is it too dangerous for the pet to stay in the situation he is in? Does he need shelter? Focusing in this way should help ensure that resources are ample for those who do need shelter, and also has the advantage of keeping more home where they belong.
A great example is a pet being relinquished to the shelter because the owner cannot afford vet care – and a shelter shifting from admitting and rehoming to simply supporting the pet and his owner (depending upon the laws and regulations and relationships, either through direct care or funding). If we step back, there is no need for shelter for this animal, he has a home and a family… he just needs a helping hand.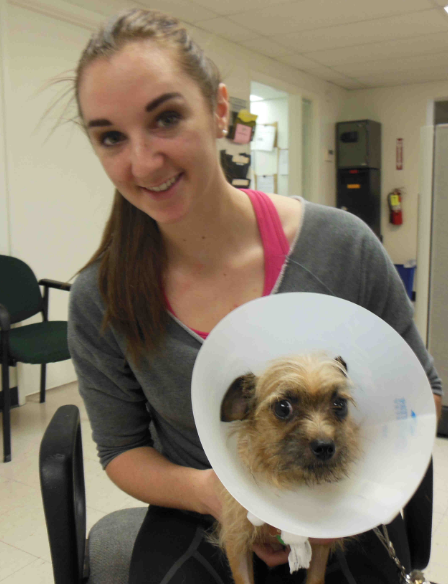 Take Jax, a dog who was brought for relinquishment to Arizona Humane Society. Jax was carried in to the shelter in the arms of his grieving mom, who had learned from her vet that the foreign body obstruction that was ailing Jax would cost $2,900 to treat – and without the surgery, he would die. She came to the shelter very upset and crying – hoping he could be saved, even if that meant he would be adopted by another family. Even as I type this, my heart breaks for Jax's mom – I can feel it viscerally. Instead of taking Jax into the shelter to do the surgery and rehome Jax, Arizona Humane was able to fix Jax (both literally and figuratively, as they threw in a neuter along with the foreign body removal) and sent him right back into his mother's arms, where he so obviously belonged. Lack of money does not mean lack of love… Arizona Humane sheltered Jax by not sheltering Jax. 
Depending upon the organization and the policies, there are likely other opportunities to evaluate the need for shelter. Sometimes, the lack of ability to pay a RTO fee can prevent someone from being able to bring their pet back home. By stepping back to evaluate the risk for the pet, it is very likely all is needed is a helping hand… he has a home, they cared enough to come to find him… I know we think that would never be us – we would never let that happen – and I sure hope it does not happen, but if it does – please, please let there be a helping hand.
Unfortunately, there are still lots of opportunities for us to shelter – there is cruelty, there are lost pets with people looking to find them, there are broken bonds and broken promises. And there are also plenty of opportunities for us to shift from traditional sheltering to providing a helping hand to help ensure the best outcome for all of the animals – the dogs, the cats and the people. 
Related links
Blog: "It Ain't Rocket Science…"
Tools: Safety Net Programs 
Comments
About the Author
Emily Weiss, PhD, CAAB
ASPCA Vice President, Research & Development
Dr. Emily Weiss' work at the ASPCA involves developing programs and processes that focus on impact on animal welfare. In her previous work as a behaviorist, she developed training programs to improve husbandry and decrease stress for many zoo animals. She has also developed assessment tools for shelter animals, including the SAFER assessment and Meet Your Match Canine-ality, Puppy-ality and Feline-ality. Dr. Weiss is co-editor of the Journal of Applied Animal Welfare Science, and has published and lectured extensively in the field of applied animal behavior.
Get our Blog content delivered direct to you.
The latest posts from ASPCApro experts and thought leaders delivered directly to your inbox.
Explore ASPCApro Tools & Tips by Topic: