Tip of the Week: Make a Kitty Hammock!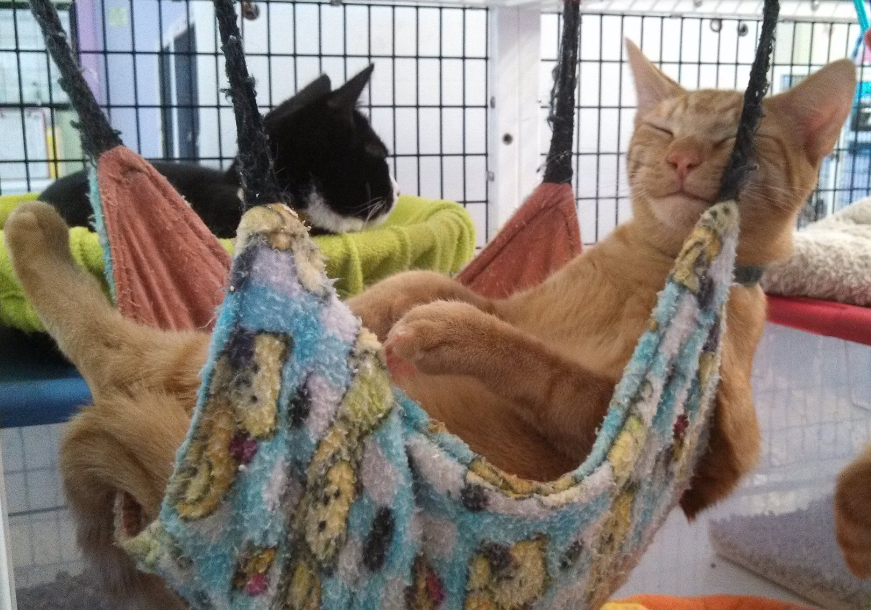 Let sleeping cats lie… in cozy hammocks, that is. Not only do felines love chillaxing in them, but they're a great way to catch the eye of potential adopters! Tracey Collins from PAWS of Hertford County set out to get one of these into every kitty kennel at the Murfreesboro, NC, shelter – mission accomplished! – and was kind enough to share instructions for making durable, machine-washable hammocks. This would be a great project for crafty volunteers!
Instructions to make 3 hammocks:
Materials:
36 inches of 60-inch-wide fleece
4 yards of webbing (you will need 12 foot-long strips)
Instructions:
Fold fleece in half, so you have a doubled-over piece that is 18 inches by 60 inches
Cut out six 18-inch squares; you will have a few inches left over (figure 1)
Cut webbing into a dozen 12-inch strips; use a lighter to burn each end so they don't fray (figure 2)
Line up your straps – double over a strap to make a 6-inch loop, and place one loop at each corner (figure 3)
Loop should point toward center, and ends are in corners of fleece (figure 4)
Sandwich each loop between 2 pieces of fleece and pin (figures 5 and 6)
Sew around edges; make sure to go back and forth over the webbing several times
Leave a gap big enough to turn right-side out
Turn right-side out, and zig-zag stich around entire hammock
Use caribiners to hang hammock in kennel
What, one more picture? OK.
Don't leave us hanging… tell us, how do you keep cats comfy at your shelter?
Related Links:
"Tip of the Week: Hello Birdie Burrito!"
Tags