My Neighbor Bought a Puppy Off the Internet
Dr. Emily Weiss shares trends in shelter data that point to an overall decrease in puppy intake. What does this mean for potential pet owners who want puppies?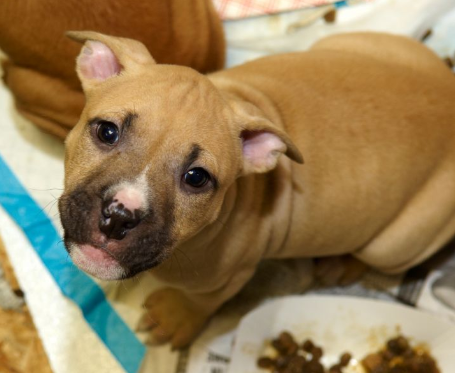 My neighbor bought a puppy off the Internet. Her husband stopped me the other day to update me on their progress in getting a pet, as he had since they had began their search visiting shelters. He was so very excited, and the puppy was on his way to them as we spoke. His joy was palpable, and my admonishing him for this choice would have done nothing but damage a relationship… the puppy was on his way.
Over the course of the past few days I have been confronted with the question I had asked you a few months ago – where are the puppies going to come from? I recently had the honor to speak at the Business of Saving Lives conference at the beautiful Tony La Russa's Animal Rescue Foundation in Walnut Creek, CA, and while there I met several puppies who had been transported in from the central valley. I watched as puppy after puppy (and adult dog and cat) left in the loving arms of a new adopted family. But in many places, there are simply very few puppies entering the sheltering system. This is great news – and, to me, it is profoundly concerning news… 
Transport is absolutely a great solution until we run out of most puppies in shelters. As staff and volunteers in organizations in the central valley of California are working hard to save more lives, transports in to organizations like ARF help get more pets into homes. While we still do not know all the overall positive impacts of transport, one thing is very clear – if you want a puppy and you live outside of an area where puppies are still coming into shelters, transport is sure one way to assure that people can get the pet they want from us – instead of buying one online or from a pet store. (ASPCA's MAP is a great way to find those that need to transport or have the capacity to receive animals.)
And while you may live in one of those places where the puppies are still abundant and it may feel like intake of puppies will never go down, the trends all point to the very real likelihood (assuming the community pulls together at least at some levels) that your community, too, will not have many puppies some day soon. Look at the following graphs showing puppy intake in 10 different communities that we partner with. You will see that in almost all, puppy intake is down.  (Note, we broke out the graphs into two as the intake scales are quite different in 2 communities.)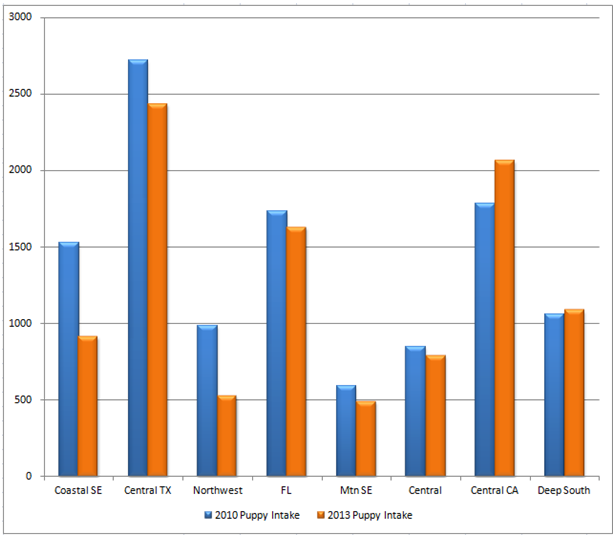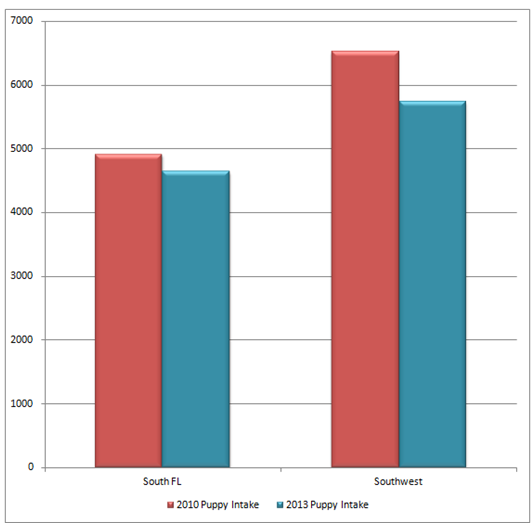 People I know are having trouble finding puppies in their local shelters. These are people who love dogs and want to do the right thing – they want to rescue, and even more than rescuing they want to hold, care for, pamper and love a pup. So when finding a puppy nearby is hard, they find a puppy another way.  
Puppy mills are the things of nightmares. Responsible breeders are expensive, and as I have said before, I personally do not think having a dog in the family should be an elite activity. The benefits of having a dog, both physically and psychologically, are too powerful to leave just to the 'Haves.'
And... some people (I think they are crazy personally) want puppies. And even if they all wanted adult dogs, the adults start out as puppies… 
If we wait to continue the discussion, it will be too late. The source that is growing now is the source that keeps us up at night…mills churning out puppies…  So I ask you once again… Where will the puppies come from? 
Related links:
"Where Will the Puppies Come From?" 
Interactive Tool: The ASPCA's MAP 
Comments
About the Author
Emily Weiss, PhD, CAAB
ASPCA Vice President, Research & Development
Dr. Emily Weiss' work at the ASPCA involves developing programs and processes that focus on impact on animal welfare. In her previous work as a behaviorist, she developed training programs to improve husbandry and decrease stress for many zoo animals. She has also developed assessment tools for shelter animals, including the SAFER assessment and Meet Your Match Canine-ality, Puppy-ality and Feline-ality. Dr. Weiss is co-editor of the Journal of Applied Animal Welfare Science, and has published and lectured extensively in the field of applied animal behavior.
Get our Blog content delivered direct to you.
The latest posts from ASPCApro experts and thought leaders delivered directly to your inbox.
Explore ASPCApro Tools & Tips by Topic: